For as long as I can remember I wanted to be an author, and I am at my happiest alone in my writing room making things up.
I grew up in a small village on the English/Welsh border and wrote my first story when I was six years old about a rabbit called "Rabbit" and when I was eleven, I wrote my first "novel" about seven cursed diamonds and the people who owned them. I studied French and Classics at University and spent a year in Paris as part of my course.
A few years later in 1990, after moving to London, I was sitting on a delayed train back home from Manchester when suddenly I had the idea of a boy wizard who went to wizarding school. Harry Potter and Hogwarts came out of nowhere in the most physical rush of excitement, and ideas came teeming into my head. I simply knew it was something I would love to write, but that day I was pen-less for once in my life, so as I sat there on the train, I had to rely on imagining the details, most of which ended up being in the books.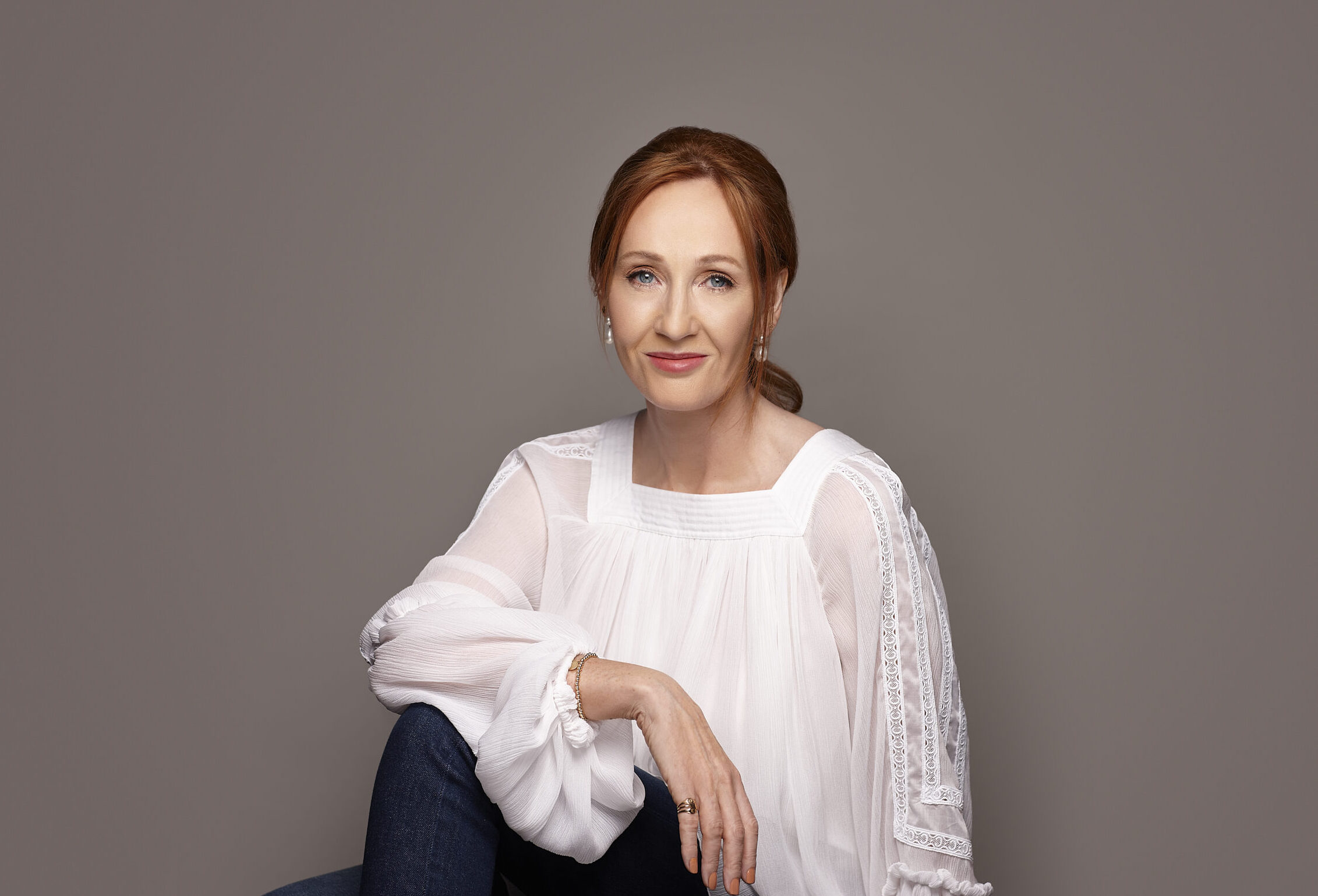 From the start I knew there would be seven books and I had the whole story plotted out early on. It took me five years to write the first book in the series, Harry Potter and the Philosopher's Stone. Within that time, my mother had died, I had moved to Portugal to teach English, got married, and had my first daughter Jessica.
The marriage didn't work out and I moved with Jessica and the first three chapters of Harry Potter in a suitcase, to Edinburgh in Scotland, where my sister lived. There I trained and taught as a French teacher but continued to write in every spare moment I had, mostly in cafés around the city, whilst Jessica slept in her pram.
Having finished the full manuscript, I sent the first three chapters to a number of literary agents, one of whom wrote back asking to see the rest of it. It was honestly the best letter I had ever received in my life.
It took a year for my agent Christopher Little to find a publisher. Lots of them turned it down. Then in June 1997 Bloomsbury published Harry Potter and the Philosopher's Stone under the name J.K. Rowling. The "K" stands for Kathleen, my paternal grandmothers name. I added it and used the initials at the publisher's request, as they said it would make the books more appealing to boys.
The book was published in the US a year later, in August 1998, with a slightly different title (again at the publisher's request), Harry Potter and the Sorcerer's Stone. It was at this point that my life changed for ever and the books took off in a big way.
The next six books of the Harry Potter series took me nearly another 10 years to write and publish, with the movies based on the books released in between publications. By the time I finished writing the final, seventh book in the series in 2007 in the Balmoral Hotel, Edinburgh, I had been living with Harry for seventeen years.
The books have now been translated into more than 80 different languages including Latin, Hebrew and Welsh, and recorded as audiobooks in nearly as many languages. I also wrote three short "Hogwarts Library" companion books for charity: Quidditch Through the Ages and Fantastic Beasts and Where to Find Them in aid of Comic Relief, and The Tales of Beedle the Bard in aid of Lumos.
After finishing the series, I decided to have a change from writing children's books and wrote a novel for grown-ups instead, set in the real world. The Casual Vacancy was published in 2012 and adapted for television in 2015. I also started writing crime fiction, which I'd always wanted to try, and in 2013 I managed to publish a crime novel under another name, without anybody knowing it was me. 'Robert Galbraith' was subsequently revealed to be my crime writing pseudonym. However, I've continued to write the Cormoran Strike series under this name. There are currently five books in the series with more to come, and each one has been adapted for TV by the BBC and HBO.
In 2016 I returned to the wizarding world I'd created. I worked with playwright Jack Thorne and director John Tiffany to continue Harry's story in a stage play, Harry Potter and the Cursed Child, which opened in London, followed by the USA and Australia.
I also wrote the screenplay for the film Fantastic Beasts and Where to Find Them, which was a very different process and experience to writing a novel. It was the first in a series of new adventures, taking place before the time of Harry Potter, featuring wizarding world magizoologist Newt Scamander, the "author" of the book I created for Comic Relief in 2001. The second film, Fantastic Beasts: The Crimes of Grindelwald, was released in 2018.
In 2020, I decided to release my fairy tale The Ickabog in free online instalments, to help entertain children, parents and carers confined at home during the Covid-19 lockdown. The response was phenomenal and reminded me just how much I love writing for children. From reader engagement to the avalanche of the children's pictures submitted to the illustration competition, sharing The Ickabog was a wonderful experience during a very dark time for us all.
It's now been published as a book and translated into 26 languages, each edition illustrated by the winners of the illustration competition. I'm donating my royalties from the published book of The Ickabog to my charitable trust, Volant, which is then distributing them to charities supporting groups particularly hard-hit by the Covid-19 pandemic in the UK and internationally.
This Autumn sees the publication of my new book for children The Christmas Pig, an adventure story about a boy's love for his most treasured toy and how far he will go to find it.
Alongside my writing and my family life, my other priority is the charities and causes I support. My charitable trust, Volant, was set up to help women, children and young people at risk. I support research and patient care for Multiple Sclerosis through the Anne Rowling Regenerative Neurology Clinic in Edinburgh, named after my mother, who died of the condition. I'm also the founder and president of the international children's charity Lumos, which fights for every child's right to a family by transforming care systems around the world, so that they are raised in a safe, loving home, supported by family to help them thrive.
I live in Scotland with my family and two dogs.
More About Me
Answers to questions I'm most often asked like where do I get my ideas and what was my favourite subject at school. Here's where to find out…
Read more