Meet The Ickabog!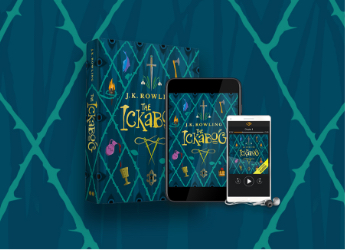 J.K. Rowling's fairy tale The Ickabog is published today as a hardback, e-book and audiobook.  The beautiful new gift hardback edition is brought to life with full-colour illustrations by the young winners of The Ickabog illustration competitions around the world, which will also be available to purchasers of the audiobook as a full-colour PDF.  The audiobook is performed by Stephen Fry and published by Audible.  The book is now available in English, Italian, German, Spanish. Brazilian Portuguese, Bulgarian, Dutch,  Simplified Chinese and Russian with more translations to follow.
J.K. Rowling is donating her net royalties from The Ickabog to help support vulnerable groups who've been particularly impacted by Covid-19, in the UK and internationally. She is making an initial donation to her charitable Trust, The Volant Charitable Trust, to help medical and frontline charities make a meaningful impact in the short term.
For more information about The Ickabog go to www.theickabog.com.
We are delighted to reveal two illustrations from J.K. Rowling's new book The Christmas Pig.
Read more >
The cover design for J.K. Rowling's new book for children, The Christmas Pig, has been revealed! Award-winning illustrator, character-designer and animation director Jim Field has produced a stunning illustration for the cover as well as nine black and white spreads and design features for the interior of the book.
Read more >
J.K. Rowling's new children's book has been announced!  The Christmas Pig will be simultaneously published on Tuesday 12th October 2021 in the UK, Australia, New Zealand, Ireland and India by Hachette Children's Group, in the US and Canada by Scholastic, in over twenty other languages by other publishers and as an audiobook in English, Spanish, German, French, Japanese and Italian by Audible, making it a truly global publication.
Read more >