Quidditch Through The Ages Illustrated Edition published today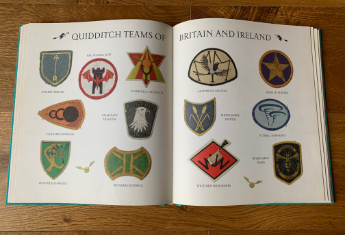 The Hogwarts Library book Quidditch Through The Ages, written by J.K. Rowling as esteemed fictional Quidditch expert Kennilworthy Whisp, has been reimagined by award-winning illustrator Emily Gravett. This colourful new edition is published today in Hardback and Deluxe editions by Bloomsbury in the UK and Scholastic in the US.
The book, arguably the most famous sports guide in the wizarding world, contains all you need to know about the history, the teams, the rules – and the breaking of the rules – of the noble sport of Quidditch.
Tasked with illustrating the fictional history of this magical sport, Emily Gravett's wildly creative imagination conjured up a cornucopia of sporting memorabilia to surprise and delight. With items and events lovingly created in a dazzling range of media, and infused with the illustrator's trademark visual wit, these charming and funny artworks are the perfect pairing for J.K. Rowling's insights into the magical, airborne sport.
Proceeds from the sale of this new edition will go to J.K. Rowling's own international children's charity Lumos, which helps some of the world's most vulnerable children and young people to have a better life, and Comic Relief.
We are delighted to reveal two illustrations from J.K. Rowling's new book The Christmas Pig.
Read more >
The cover design for J.K. Rowling's new book for children, The Christmas Pig, has been revealed! Award-winning illustrator, character-designer and animation director Jim Field has produced a stunning illustration for the cover as well as nine black and white spreads and design features for the interior of the book.
Read more >
J.K. Rowling's new children's book has been announced!  The Christmas Pig will be simultaneously published on Tuesday 12th October 2021 in the UK, Australia, New Zealand, Ireland and India by Hachette Children's Group, in the US and Canada by Scholastic, in over twenty other languages by other publishers and as an audiobook in English, Spanish, German, French, Japanese and Italian by Audible, making it a truly global publication.
Read more >